Sussanne Morton was born 1963 in Denmark, and immigrated with her family to Australia in 1969.
During her early childhood years in Australia, the family moved often. An unsettling time, Sussanne found beauty and solace in nature.
At the age of ten, her family finally settled in the beautiful border ranges of QLD and NSW in the inspiring countryside of the Lost World Valley. It was here, with the encouragement of her parents, and lessons from her father that her natural artistic talent began to flourish.
Since 1995 Sussanne has been exhibiting and selling her work through mixed exhibitions, in galleries and venues on the Sunshine Coast, Brisbane, Sydney, Melbourne and Singapore. Her work selling also to collectors overseas.
Painting in oils, her works are created in a traditional layering process. Petals are created in several layers, blending repeatedly with each new layer to create realistic silky, delicate petals, whilst shadows and depth are attained through rich glazes.
Sussanne's larger than life paintings represent actual captured moments in time, and are a culmination of many years of gathering photographic reference for her work. In fact each flower represents a flower hunting adventure in a garden or flower field.
Her study of flowers concentrates on nature's unique design handiwork as well as the effects of natural lighting upon the blooms. It is the play of sunlight and shadows in a dance of contrasts, tones and reflected colour that creates the magic that brings her paintings to life.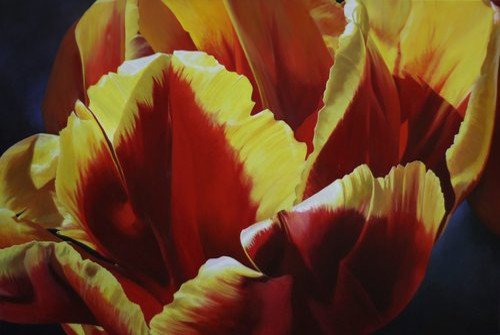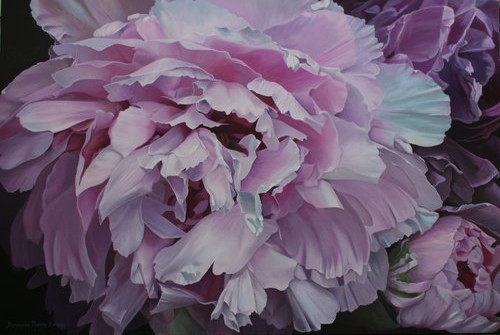 Morningside Art College, Brisbane
Interior Design Studies, Cooloola TAFE, QLD
2017  Commissioned works, Private Collectors, Sunshine Coast, QLD
2016  Commissioned works, Private Collectors, Sunshine Coast, QLD
2010  Commissioned Works, Private Collectors, Olinda, Vic
2009  Commissioned Works, Remax Central, Woolloongabba, Brisbane
2009  Commissioned Works, Private Collector, Toowong Inn & Suites, Brisbane
2009  Commissioned Works, Private Collector, Mooloolaba, QLD
2008  Commissioned Works, Private Collectors, Toowong Inn & Suites, Brisbane
2008  Commissioned works, Private Collector, Sinnamon Park, Brisbane
2008  Commissioned Works, Private collectors, Denmark.
2007  Commissioned Works, Private Collectors, Buderim, QLD
2007  Commissioned Works, Private Collector, Buderim, QLD
2005  Commissioned Works, Private Collector, Sunshine Coast, QLD
2003  Commissioned Works, Private Collector, Sunshine Coast, QLD
1999  Private collectors America
1999  Private collectors Denmark
1996  Private Collector, Brisbane, QLD
1995  Private Collector Sunshine Coast, QLD